News Release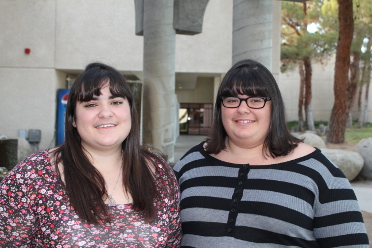 (L to R) Sisters Gianna and Marissa James
ALL
College Life for Two Sisters
December 7, 2012
It didn't take long for two sisters, Gianna and Marissa James, to get involved at Cerro Coso Community College and in the community. Having moved 24 times in their young lives, these two women have become more than just sisters, they are also best friends. "You kind of have to be when you relocate so many times," said Gianna.
Both sisters agree that moving and exploring new places has been a rewarding and enriching experience. "It was a chance to learn different cultures and experience different attitudes about life," said Gianna.
The sisters grew up mostly on the east coast and have been in Ridgecrest for less than a year. That did not stop them from jumping in and volunteering to serve on the Student Government at the college and for the hospice program at Ridgecrest Regional Hospital.
"One of the easiest ways to get to know others and make friends is to get involved," said Marissa. Gianna is currently serving as the President of the Student Government at Cerro Coso and her sister Marissa is Vice President. "Gianna is more of an outspoken, upfront person and I am more of the behind the scenes kind of person," explained Marissa of their different personalities.
There aren't too many things that Gianna and Marissa don't do together. They have the same education goal—to be speech pathologists; they take the same classes to share resources; they tutor each other; and volunteer at the same places. They even applied to the same eleven colleges in hopes of being accepted to the same university next fall. Their network of support and friendship helps keep each sister motivated and active.
The two have been to both large and small colleges and prefer the community feel of Cerro Coso. "There are more opportunities for interaction between students, better access to support services, and it is easier to get involved," said Gianna. "What we have learned," adds Marissa "is the more involved you get, the more connected you become, the more you become a part of the community, the more enriching the experience. Here students have a chance to get involved in the activities of the college and gain experience that could help them in a career. There is more occasion to chat, debate, and collaborate," they laughed.
Their unbreakable bond and family commitment has enhanced many happy times. It also proved invaluable during tough times like caring for their ill father.
It came as no surprise when asked who had influenced them most in life, that the two had the same answer—their mother, Tina. "She is a strong leader and business woman who believes in the importance of an education and encourages us to get our education," explained Gianna. "She inspires us to work hard and has taught us that anything is possible if we work hard enough," added Marissa.
There is so much to learn from the strong bond and supportive relationship of these two sisters whose travels have taught them the importance of volunteer work to their education and community. Both women urge students to get involved at the college and in the community. "It gives you the opportunity to make a difference—change lives, support a cause, and improve your community, and that can lead to a rewarding educational experience," they concluded.
Gianna and Marissa are both on track to graduate from Cerro Coso in May and plan to transfer to a four-year university in the fall of 2013.
FOR FURTHER INFORMATION, PLEASE CONTACT:
Natalie Dorrell, Public Information (760) 384-6260