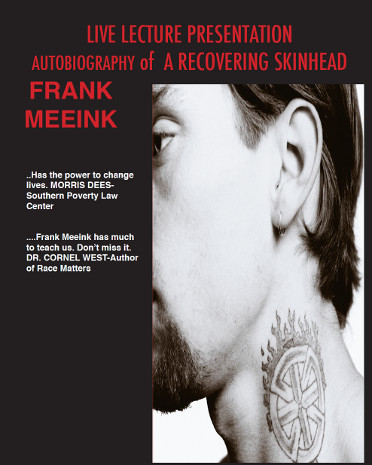 News Release
ALL
Autobiography of a Recovering Skinhead Frank Meeink to Lecture at CCCC Nov 29th
November 26, 2012
Cerro Coso Community College students invite the community to join them for a FREE lecture by Frank Meeink on Thursday, November 29th, 2012 at 6 p.m. in the Lecture Center on the Ridgecrest campus.
The Autobiography of a Recovering Skinhead is Frank Meeink's raw telling of his descent into America's Nazi underground and his ultimate triumph over hatred and addiction.
The live lecture of Frank's downfall and redemption has the power to open hearts and change lives. Frank's violent childhood in South Philadelphia primed him to hate. He made easy prey for a small group of skinhead gang recruiters led by his older cousin. At fourteen, he shaved his head. By sixteen, Frank was one of the most notorious skinhead gang leaders on the East Coast. By eighteen, he was doing hard time in an Illinois prison.
Behind bars, Frank began to question his hatred, thanks in large part to his African-American teammates on a prison football league. Shortly after being paroled, Frank defected from the white supremacy movement. The Oklahoma City bombing inspired him to try to stop the hatred he once had felt. He began speaking on behalf of the Anti-Defamation League and appeared on MTV and other national networks in his efforts to stop the hate.
In time, Frank partnered with the Philadelphia Flyers to launch an innovative hate prevention program called Harmony through Hockey. He is currently developing a similar program for the Iowa Chops, an AHL team affiliated with the Anaheim Ducks. He is featured in a film directed by Jessee Dylan with Desmond Tutu called Reconciliation.
Frank Meeink works as director of fan development for the Iowa Chops hockey team. He has been on the national lecture circuit for nearly a decade, speaking to various groups on the topic of racial diversity and acceptance.
The lecture is funded by the Cerro Coso Student Development fund and is open to the public.
FOR FURTHER INFORMATION, PLEASE CONTACT:
Natalie Dorrell, Public Information (760) 384-6260