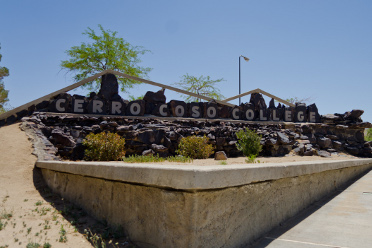 News Release
ALL
College Advises Students to Register Early for Spring Classes
November 16, 2012
Cerro Coso Community College aims to prepare students for life-long success. It's all about your future. Whatever your career goals, a college education can help you achieve them. Registration at Cerro Coso is now under way for both the summer and fall semesters.
The mission of Cerro Coso Community College is to help students meet their career and educational goals. Spring classes at the college begin January 14, 2013. The college is expecting classes to fill quickly so interested individuals are encouraged to register early for best class selection. Cerro Coso offers a variety of courses including: day, evening, on-line, and accelerated classes to help students get the most from their education. Class schedules are available on the Cerro Coso website at www.cerrocoso.edu.
Open enrollment begins November 28, 2013. New students are advised to complete placement exams and see a counselor prior to registering for any classes.
Enroll in classes this spring and turn your educational dreams into an amazing reality at Cerro Coso Community College. For additional information on financial aid, placement exams, and academic advising services call the college at your nearest campus:
Ridgecrest main campus – (760) 384-6219
Lake Isabella KRV campus – (760) 379-5501
ESCC Bishop campus – (760) 872-1565
ESCC Mammoth Lakes campus – (760) 934-2875
Edwards AFB South Kern campus – (661) 258-8644
FOR FURTHER INFORMATION, PLEASE CONTACT:
Natalie Dorrell, Public Information (760) 384-6260