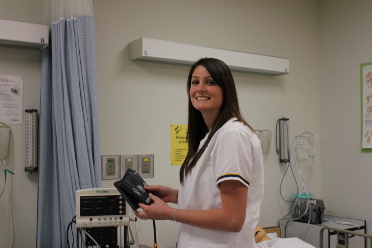 News Release
KRV
Local Nursing Student Weighs in on Plans to Bring Program to the KRV
November 16, 2012
For as long as she can remember, Cerro Coso student Rebecca Norris has always wanted to be a nurse. A second semester nursing student at the college, Rebecca drives to the Ridgecrest campus every week to take nursing classes and returns on the weekends to work as a CNA at Kern Valley Hospital.
In the spring of 2014 Cerro Coso Community College will begin offering an accelerated 12-month LVN Program in the Kern River Valley. Rebecca thinks Cerro Coso's plan is an "awesome" opportunity for local students. "It is difficult for some to commute to the Ridgecrest campus to attend classes. A local program will open doors for students in the valley that would not otherwise be available," she said.
Rebecca gives a lot of credit to the Kern Valley High School Exploring Careers in Health Occupations (E.C.H.O) Program for changing her life. While in high school she completed college courses in Medical Terminology and Certified Nursing Assistant and volunteered at the local hospital. This led to her getting a job in the healthcare field after graduating from the high school in 2012. She currently works in a skilled nursing facility providing the highest level of care to older adults.
Well on her way to making her dreams of being a Registered Nurse in Labor and Delivery come true, Rebecca recently received a $1,000 grant from Dr. and Mrs. Carlos Montes to help with her school expenses. Upon graduation from the LVN Program in May of 2013, she plans to register for the RN Program through Bakersfield College.
Rebecca's story is a great example of what partnerships can do to provide educational opportunities for local students. "Cerro Coso Community College is committed to providing students with meaningful learning environments that maximize their potential. Partnering with other educational institutions and local employers allows us to share experiences, vision, knowledge, talent, and resources that add exceptional value in developing programs that produce top performers. We are very excited about the impact the LVN program will have on the students and communities of the Kern River Valley," stated Valerie Karnes, Dean of Career Technical Education.
The ability to offer LVN classes in KRV is the result of a $1.5 million dollar Central California Community Colleges Committed to Change (C6) grant funded through the Department of Labor Trade Adjustment Assistance Community College and Career Training Programs (TAACCCT).
The college will be holding an Information Night on the new LVN program and Health Career tracks partially funded through the C6 grant on Tuesday, December 4, 2012 at 6:00pm in Room G of the Cerro Coso Community College KRV campus. The public is invited to attend. For more information contact the Cerro Coso Community College KRV Office at (760) 379-5501.
FOR FURTHER INFORMATION, PLEASE CONTACT:
Natalie Dorrell, Public Information (760) 384-6260