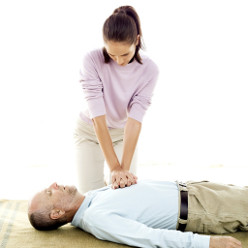 News Release
IWV, KRV
Cerro Coso Offering First Aid CPR/AED Course
November 15, 2012
First aid training could save your life, or the life of someone you love. Cerro Coso Community College is offering a First Aide CPR/AED course EMTC C106 (CRN 72746) at the Ridgecrest campus on Tuesday and Wednesday, November 27 and 28, 2012 in the Main Building Room 122C from 4 to 9 p.m.
Good first aid training helps you recognize and treat life-threatening conditions and injuries. Dana Alloway will instruct the 0.5 unit class covering a wide variety of accidents from scrapes and cuts to bruises and accidental poisoning through discussion, demonstrations, and practical experiences. It includes Emergency Action steps; breathing and cardiac problem recognition and care; CPR for adult, child, infant; AED Automated External Defibrillator for adult and child, and choking for conscious and unconscious person; wound care; bandaging; shock; poisoning; local poisonous plants and animals; burns; bone and joint injuries including splinting; diabetic emergencies; temperature extremes; and other sudden illnesses. It may also include disaster preparation and family planning for local emergencies. Prepare to lend a hand in a dire emergency.
Everyday lives are saved by the immediate response of ordinary citizens who happen to have been trained in basic first aid.
Enrollment is open to the public and the book for the class is available now in the College Bookstore. A $10 fee will be collected in class to cover the American Heart Association Heartsaver First Aid CPR/AED card. Complete registration and course information is available on the web at www.cerrocoso.edu or contact the College Counseling Department at (760) 384-6219.
FOR FURTHER INFORMATION, PLEASE CONTACT:
Natalie Dorrell, Public Information (760) 384-6260