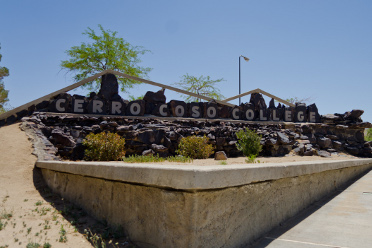 News Release
IWV
Alumni Give a Shout Out for Cerro Coso
November 1, 2012
Since 1974 Cerro Coso Community College has conferred more than 7,670 degrees and certificates, leaving no shortage of alums. The Cerro Coso Community College Alumni Association seeks to reconnect with alums through its "Give a Shout Out" campaign.
All alumni, regardless of career path, are invited to tell their Cerro Coso success story via the Alumni Association's website at http://www.cerrocoso.edu/alumni/.
The CCCC Alumni Association draws strength from individuals whose lives have been greatly affected by Cerro Coso programs, services, faculty, and staff and works to keep the Coyote spirit strong by offering support through gifts of time, talent, and financial resources.
"We are looking to add new features, events, and benefits for our alumni, so please consider serving on the Alumni Board, or helping out on a committee," said Alumni Manager Natalie Dorrell ('88).
The CCCC Alumni Association promotes the development of leadership, organization, and interpersonal skills among the College's many students, staff, and alumni. Our programs and services are designed to support students and graduates in maximizing their long-term career potential by providing scholarships, recognition, and social and cultural events that enhance learning.
The benefits Cerro Coso alumni experience don't end with graduation, and current students can learn more by connecting with the success of former students. Great stories inspire others.
Help make a difference and let others know how Cerro Coso Community College changed your life and inspire others.
The Alumni Association's goal is to stay connected with each graduate, so please take some time to share your Cerro Coso success story, or email the alumni office at ndorrell@cerrocoso.edu.
FOR FURTHER INFORMATION, PLEASE CONTACT:
Natalie Dorrell, Public Information (760) 384-6260