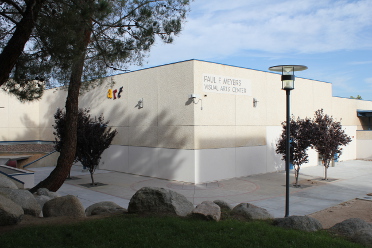 News Release
All
Paul F. Meyers Visual Arts Center Dedication at Cerro Coso Community College
October 19, 2012
The public is invited to the dedication and ribbon cutting of the Paul F. Meyers Visual Arts Center at Cerro Coso Community College. The ceremony is scheduled for 2:00 p.m. on Friday, October 26, 2012 at the facility located on the Ridgecrest campus. The Paul F. Meyers Visual Arts Center is located in the College West Wing north west of the Main Building.
The facility, originally built in 1984, recently underwent a modernization and expansion project that almost doubled the size of the facility. The $3.2 million project was funded by the Safety, Repair, and Improvement District (SRID) Measure G Bond passed by voters on November 5, 2002. Construction began in the spring of 2009 and classes moved back into the facility this fall.
On May 10, 2007 the Kern Community College District Board of Trustees approved naming the facility the Paul F. Meyers Visual Arts Center to honor Mr. Paul Meyers for his dedication to education and devotion to Cerro Coso Community College. Mr. Meyers was employed at the college in 1973 as an art instructor. He oversaw construction of four large gas kilns, the college art gallery, and a foundry for casting aluminum and bronze. He initiated a very active student art organization and wrote a grant to begin a High School Art Workshop which brought 60 to 70 talented students to the college for two days of intensive art workshop experience. Mr. Meyers was the recipient of a Fulbright Research Fellowship to Nicaragua in 1982. He developed and offered the first online classes at Cerro Coso, designed and developed FrontPage online courses, and directed the California Virtual Campus Region 4 grant for six years.
The Paul F. Meyers Visual Arts Center of Cerro Coso engages students in the creative process through the visual arts. Every semester the facility houses a wide range of classes in painting, drawing, ceramics, and more for college students. Under the expert instruction of Professors Dick Benson and Lören Sandvik, art classes at the college continue to stimulate creativity and provide an avenue for satisfying self-discovery and expression.
An open house, tours, and reception will immediately follow the building dedication. Light hors d'oeuvres will be served.
For more information contact Natalie Dorrell, Public Information Manager, at 760-384-6260.
FOR FURTHER INFORMATION, PLEASE CONTACT:
Natalie Dorrell, Public Information (760) 384-6260