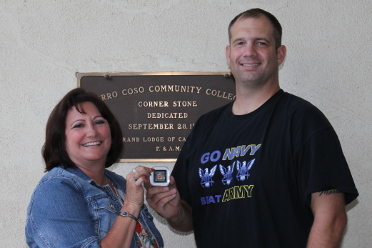 News Release
IWV
Student Wins iPod
August 23, 2012
Cerro Coso Community College student Richard Barrow (right) receives one of two 8 GB iPod Nanos donated by the CCCC Foundation to encourage students to participate in a Student Experience Survey last spring from CCCC Public Relations Manager and Foundation Board Member Natalie Dorrell (left). Richard majors in Liberal Arts, Math and Science, at Cerro Coso's Ridgecrest campus and plans to earn an Engineering degree.
The College is always looking at ways to improve services to assist students in meeting their educational goals. The Student Experience Survey provided students an opportunity to share their opinions and learning experiences at Cerro Coso. Student feedback will be compiled and used to create positive improvements in services for Cerro Coso students.
Online student Anne L. Loyola (not pictured) of Livermore, California, also won an iPod Nano.
FOR FURTHER INFORMATION, PLEASE CONTACT:
Natalie Dorrell, Public Information (760) 384-6260