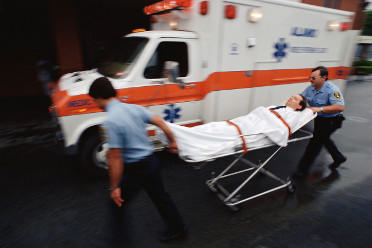 News Release
SK
Cerro Coso Offering EMTC Classes in Cal City This Fall
August 3, 2012
Are you looking for an exciting and challenging career helping others? Emergency Medical Technician (EMT) training at Cerro Coso Community College works with a variety of jobs including paramedics, law enforcement officers, fire fighters, air medical crew members, and many, many more to provide care and transportation of sick and injured patients. Every day, people's lives depend on the quick reaction and competent care of emergency medical technicians (EMTs).
To be eligible to work in pre-hospital emergency care, individuals must become certified as an Emergency Medical Technician – Basic. The EMT class at Cerro Coso is a one semester course that provides training in the recognition, assessment, treatment, and practical techniques for pre-hospital emergency medical care of patient(s). Students are trained using the national standards and become eligible to complete national and state approved testing after completion of the course. Although it is only a one semester course, the lecture, practical application, and clinical experience requires class participation and appropriate study time to be prepared to become an EMT-Basic.
Cerro Coso is offering two EMT courses this fall in California City with instructor, Michael Metcalf.
EMTC C105, Emergency Medical Technician 1 will meet on Monday and Wednesday evenings from 6 to 10 p.m. and occasional Saturdays (instructor will notify) in Room 203 at California City High School. The course will survey the techniques of emergency medical care through recognition of signs and symptoms of illnesses, and injuries. Proper procedures of emergency care and transportation aspects required for EMT-I personnel are covered. Upon completion of the above objectives and passing the Final Exams, students will receive a Certificate of Completion and state skills form. This qualifies students to apply and take the national exam for the Emergency Medical Technician-Basic, to ultimately qualify for application within the State of California.
EMTC C070, CPR for the Health Care Provider is a Healthcare Provider CPR course that meets or exceeds the current American Heart Association standards. The course provides training in emergency treatment for life-threatening cardiopulmonary arrest, airway and breathing management, and foreign body obstructed airway for all age groups. The class will also cover one and two rescuer CPR, use of barrier devices, AED use, and the prevention of disease transmission. The one day class will meet in Room 203 at California City High School on Saturday, August 18, 2012 from 8 a.m. – 5 p.m.
Technicians are entering many fields in the job market due to the diverse abilities of the EMTB. Once completed and certified as an EMTB, students often continue into other health career programs including: vocational nursing, medical assisting, pharmacy technicians, and other fields from wild land firefighting to safety officer positions. Having this training is useful in everyday activities including coaching, youth group or activity advisors, scout leaders, ski patrol, and family or individual functions.
For a complete listing of fall classes being offered through the South Kern campus and registration information visit the Cerro Coso web site at http://www.cerrocoso.edu/. Fall classes begin August 20, 2012.
FOR FURTHER INFORMATION, PLEASE CONTACT:
Natalie Dorrell, Public Information (760) 384-6260