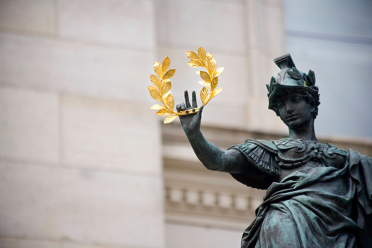 News Release
IWV
Spring 2012 President's List
July 19, 2012
Cerro Coso Community College is pleased to announce that 138 students made the President's List for the Spring 2012 semester. This includes 65 students from the Indian Wells Valley Campus, 12 students from the Kern River Valley Campus, 7 from the Eastern Sierra College Center in Bishop, 8 from the Eastern Sierra College Center in Mammoth Lakes, and 46 CC Online students from various locations. This list is comprised of all students who achieved a grade point average of at least 3.75 while earning a minimum of 40 grade points within the Spring 2012 semester. It is the goal of Cerro Coso to recognize students who have significantly excelled in their academic studies. "The presence of students with high academic standards serves as an inspiration to both faculty and students alike," stated Jill Board, President of Cerro Coso Community College.
Cerro Coso Community College is proud to honor the following students for making the President's List for their scholastic achievements during the Spring 2012 semester:
Indian Wells Valley Campus (65): Luis A. Almanza, Melissa S. Bacher, John D. Badoud, Daniel C. Barron, Alan E. Bengtson, Raeven W. Blaauw, Taylor A. Boske, Shali Cai, David A. Chandler, Emma J. Crites, Timothy T. Davis, Barbara J. Dolan, Miranda E. Draves, Julia M. Early, Norman Early, John K. Fraley, Jacob L. Freeborn, Diego Gonzalez, Thomas R. Harris, Jackalyn S. Henry, Thomas J. Higdon, Daniel J. Ibarra, Gianna L. James, Melissa M. Johnson, Alan C. Laderas, Charles N. Leask, Michael A. Lelis, Connie L. Leyva, Matthew E. Maclean, William P. Malloy, Tony Marcum, Michael A. Martinez, Lauren C. Mcguigan, Timothy S. Monsibais, Brian E. Moore, Brian E. Moore, Lorena Morales, Anna C. Moschitto, Michael J. Musick, Darren L. Norris, James F. Orr, Melanie N. Pearl, Natasha J. Pitchford, Asencion G. Plaza, Emily L. Plett, Gage T. Ramlose, Isaac A. Ramos, Seth G. Rash, Amber J. Ricker, Rachel L. Roberts, Matthew C. Rossi, Erick Rubalcava, Parambir K. Sangha, Jamie L. Schorr, Ashley N. Servin, Leonard Shin, Evan C. Smith, Jennifer A. Spurlock, Christopher P. Strunc, Angel Thompson, Brian J. Thompson, Matthew J. Vallet, Javier Vargas, Shawna R. Villa-Rodriguez, Aaron P. Warmerdam, and Dayna M. Zarazinski.
Kern River Valley Campus (12): Amy D. Bone, Randall W. Durham, Teresa H. Emerson, Hailee N. Fitzwater, Candice Y. Jeremiah, William Lambert, Courtney L. Nelson, Karen C. Priest, Amber M. Pyle, Claude H. Romanchuk, Eric S. Young, and Haley M. Ziegler.
Eastern Sierra College Center – Bishop Campus (7): Abigail C. Don, Equal R. Kennedy, Rebekah G. Mitchell, Tanya S. Mitchell, Shane L. Stroud, Shayla L. Tillotson, and Todd C. Yeomans.
Eastern Sierra College Center – Mammoth Lakes Campus (8): David F. Alonso, Jaymee H. Chaides, Jenna E. Hopper, Lane P. Jacobson, Stephanie A. Reedy, Dwight J. Saunders, Carly Z. Swett, and Ashlee Templeton.
CC Online – Various Locations (46): Amanda R. Abercrombie, Danielle T. Almaraz, Brenda Anaya, Robert J. Brooks, Allison M. Burch, Bryawna E. Bychek, Charles D. Collom, Lindsay M. Cook, Jordan R. Covert, Phillip Cox, Kimberly A. Della, Michael O. Finney, Jillian M. Garness, Manuel A. Gonzalez, Karen L. Grant, Sandra Gutierrez, Jason A. Haffner, Lindsey A. Harper, Deanna M. Herrin, Don F. Hibshman, Leslie A. Higashi, Albertine M. Johnson, Jane Jue, Chris Kasper, Aubrey J. Landon, Ellen M. Lieberman, Breanna L. Maliaros, Melissa G. Mortensen, Nathaniel P. Newman, Michelle L. Oakman, Karl Osharkey, Theresa Misty L. Payne, Roree M. Phillips, Catherine N. Placencia, Debra L. Reese, Brandon Schoolcraft, Rebecca A. Shaw, Jessica K. Smittle, Michelle A. Snoderly, Malissa B. Toppas, Kelly K. Treat, Justine M. Waldock, Mariah M. Walker, Tammy L. Walker, Bill A. Wilson, and Asaph J. Yuan.
FOR FURTHER INFORMATION, PLEASE CONTACT:
Natalie Dorrell, Public Information (760) 384-6260