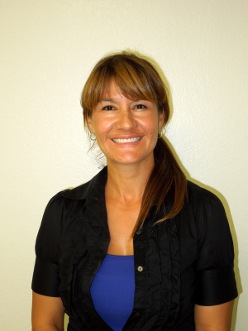 News Release
IWV
Former Player Set to Coach Volleyball at Cerro Coso
June 20, 2012
Ridgecrest, California – Cerro Coso welcomes Kim Young as the head coach for a new Women's Volleyball team at the College Ridgecrest campus.
Born and raised in Ridgecrest, Kim is a 1986 graduate of Burroughs High School and a 1995 graduate of Cerro Coso Community College. She played volleyball at Cerro Coso in 1994 under former coach Mike Sernett. Most recently, Kim served as the Volleyball Coach at Burroughs High School for five years.
"We are thrilled to have Kim leading our women's volleyball program for many reasons. Her competitive spirit and enthusiasm for the game of volleyball coupled with her desire to see these young ladies grow and mature are qualities that make her an excellent fit for Cerro Coso," stated Kim Kelly-Schwartz, Interim Director of Athletics.
An accomplished fitness trainer, Kim is a former competitive mountain bike rider. She has taught classes in spinning and group training on base and continually seeks to increase her knowledge of fitness and nutrition holding certifications in Nutrition, TRX Training, Aqua Logix, Naval Operations Fuel & Fitness Systems (NOFFS), and group fitness. For the past three years she has attended the Gold Medal Squared Elite Volleyball Training Camp for coaches, which is one of the most comprehensive and revolutionary volleyball coaching education events taught by some of the most successful coaches in the world.
Actively recruiting local female college athletes interested in competing on the new Women's Volleyball Team, Kim says she already has eight players signed from Ridgecrest, one from Trona and is hoping to add players from other feeder high schools. Individuals interested in playing are invited to contact Educational Advisor Amy Kennedy at (760) 384-6219 or complete the Prospective Player Questionnaire available online at http://athletics.cerrocoso.edu/volleyball/recruitment.htm.
She has very high hopes for the future of Cerro Coso volleyball and is happy to be a part of the Cerro Coso community once more. "I enjoy everything about volleyball and the relationships forged with athletes and I am looking forward to this new venture at Cerro Coso," said Kim.
Kim and her husband Nick have two sons at Burroughs High School, Jase is a junior and Corey a freshman. They are avid Angels fans and spend most of their spare time watching or playing baseball.
FOR FURTHER INFORMATION, PLEASE CONTACT:
Natalie Dorrell, Public Information (760) 384-6260