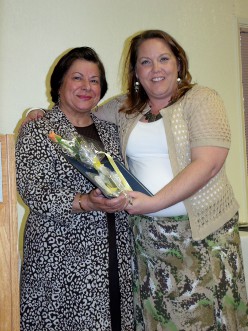 Cerro Coso Child Development Center Employees (l to r) Parvine Paymanian and Diana Smith receive recognition for service by ESAEYC.
News Release
IWV
Cerro Coso Child Development Staff Recognized for Service to Children
May 29, 2012
Two Cerro Coso Child Development Center employees were recognized for their dedication and service to children at the annual Child Development Recognition Dinner given by the Eastern Sierra Association for the Education of Young Children (ESAEYC) in April.
Parvin Paymanian has been providing services for over 20 years in the Indian Wells Valley. Her career began as a registered nurse in Persia where she loved her time in the Kindergarten rooms. It was hard for Parvin to see children sick so she chose to make a career change to teach when she moved to the United States.
"Parvin has a tireless dedication to the families she serves," stated Cerro Coso CDC Manager, Jennifer San Nicolas. She enjoys working with student interns that go through her classroom teaching them as much as they want to know about infants and toddlers.
Diana Smith is currently a Site Supervisor at the Cerro Coso CDC in Ridgecrest and enjoys helping people grow to their greatest potential.
She is serving as President of the Eastern Sierra Association of Young Children and is a member of the National Association of Young Children and its associations.
Diana holds an AA in Early Childhood Education from Cuesta College and a BS in Child Development from the University of La Verne.
Diana was recognized by her peers for the positive changes she has made at the Cerro Coso Child Development Center.
FOR FURTHER INFORMATION, PLEASE CONTACT:
Natalie Dorrell, Public Information (760) 384-6260