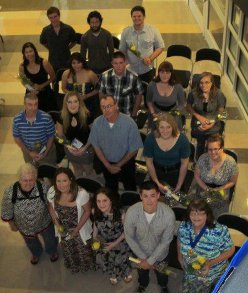 News Release
IWV
Cerro Coso Holds Phi Theta Kappa Induction Ceremony
May 21, 2012
Ridgecrest, California – Phi Theta Kappa International Honor Society held its induction ceremony for its newest members on Friday May 4, 2012 in the Cerro Coso Community College Student Center. Distinguished Phi Theta Kappa Cerro Coso Alumni, Morgann Havig, was the keynote speaker.
Sixty students were inducted into the Beta Kappa Chi chapter of Phi Theta Kappa International Honors Society at Cerro Coso Community College for the 2012-2013 academic year:
Janice Shaw-Alford
Joshua Allen
Danielle Almaraz
Kimberly Angel
Melissa Bacher
Lauren Barrett
Rebekah Benghiat
Melinda Butler
Bryawna Bychek
Christina Cardenas
Sarah Cooley
Benjamin Cox
Arcee Duag
Charles Evans
Christopher Ferrucci
Katrina Forrest
Jennifer Gates
Earleen Halstead
Deanna Herrin
Janelle Holland
Albertine Johnson
Glen Johnson
Trenton Jones
Robert Keathley
Aubrey Landon
Maryia Lebiadzinskaya
Moriah Lloyd
Marissa Lystrup
Parveen Majeed
David Mari
Deanna Mendez
Julia Morales
Anna Moschitto
Karl Osharkey
Nancy Pace
Kathryn Pingry
Catherine Placencia
Kimberly Polinsky
Martina Polisner
Lori Pope
Lisa Riehl
Nickie Rothwell
Erica Ruiz
Jean Scott
Katelyn Kelly Shive
Katie Singleton
Evan Smith
Jessica Smittle
Taylor Strawn
Daniel Strong
Kaylee Stuart
Marissa Toppas
Maria Vasquez
Danica Vittoria
Leslie Walker
Mariah Walker
Lisa Wilson
Todd Yeomans
Eric Young
Haley Ziegler
Phi Theta Kappa Officers for the 2012-2013 school year were sworn in and include: Tammy Kinnan, President; Jennifer Buel, Leadership Officer; Parveen Majeed, Membership Officer; Earleen Halstead, Recording Officer; Rex Winters, ASCC Representative; Katelyn Shive, Mammoth Representative; and Haley Ziegler, KRV Representative.
Phi Theta Kappa is the International Honor Society of the Two Year College founded in 1918. Its mission is to encourage the academic achievement of two-year college students and provide development opportunities through participation in leadership and service. Cerro Coso joined Phi Theta Kappa and established the Beta Kappa Chi chapter in 2006.
These students earned the privilege to join Phi Theta Kappa based on their academic excellence, earning at least a 3.5 grade point average in degree- and transfer-level courses, making them the top 10% of Cerro Coso Community College students. By joining Phi Theta Kappa, they become life-long members of the world's largest honors society, have access to over $36 million in scholarships, and join an outstanding fellowship of scholars.
FOR FURTHER INFORMATION, PLEASE CONTACT:
Natalie Dorrell, Public Information (760) 384-6260