News Release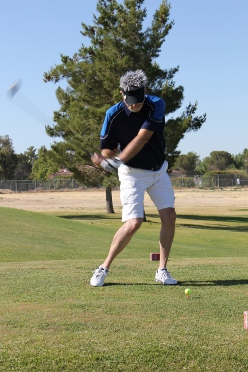 IWV
College Golf Tournament to Benefit Book Scholarships
May 18, 2012
The Fourth Annual Cerro Coso Golf Tournament is slated for Friday, June 22, 2012 at the China Lake Golf Course. The College and the Cerro Coso Community College Foundation have teamed up to host the event with proceeds going for student book scholarships. Sign-in begins at 7 a.m. and shotgun scramble time is at 8:00 a.m. The registration fee of $100 per player includes green fees, 2 mulligans, 1 putting contest entry, 5' putting string, tiger tee's on par 5's holes #7, #10, & #18, and closet to Pin on Part 3's holes #6 & #11 and lunch. Prizes will be awarded to the teams with the highest score, lowest score, and longest drive.
There will also be Tee prizes for all players, Putting Contest prizes and Par 3 prizes. Golfers will have a chance to participate in the Pot of Gold and Pot of Silver contests. The Putting Contest will begin at 7:00 a.m. on tournament day. The average cost of books and supplies for college students attending Cerro Coso Community College (CCCC) full time exceeds $600 per semester. Now, more than ever paying for textbooks is a financial struggle for students. The Cerro Coso Textbook Scholarship Program helps students to continue their education by offering qualified students the opportunity to receive funds for their books.
The CCCC Golf Tournament has raised more than $9,000 over the past three years for needed textbook scholarships. "True to our goals, six students were awarded scholarships this year to help defray the cost of books," stated Dave Cornell, co-chair of the Cerro Coso Golf Tournament.
Golf sponsorships are also available and offer opportunities for advertising and marketing as well as showing support for the goals of the College and Foundation. Cerro Coso invites all interested individuals to join in the fun, playing a game they love, while raising money for a worthy cause. Call Dave Cornell at (760) 384-6291 or John Daly at (760) 384-6369 to obtain an entry form or for additional information. Entry forms are also available on the College website at http://www.cerrocoso.edu/foundation/docs/GolfTournament2012.pdf.
FOR FURTHER INFORMATION, PLEASE CONTACT:
Natalie Dorrell, Public Information (760) 384-6260