News Release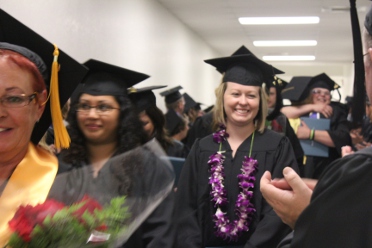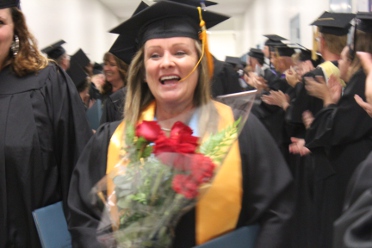 multiple
Cerro Coso Honors Graduates During Commencement Exercise
May 15, 2012
Ridgecrest, California – Cerro Coso Community College Commencement Exercises were held in the Gym of the Raymond A. McCue Athletic Complex on Friday, May 11.
Friends, relatives, staff and faculty gathered to honor a class of 257 eligible graduates from the Indian Wells Valley Campus, South Kern Center at Edwards Air Force Base, Kern River Valley Center in Lake Isabella, and Online students. Out of the 262 graduates, 151 graduated with an Associate of Arts degree, and 58 with an Associate of Science degree. Forty-eight graduates received Certificates of Achievements. Five students are 4.0 graduates, 22 graduated with honors, and 45 were Phi Theta Kappa honor graduates. Professor Steve Busby, Administration of Justice, served as the Faculty Marshall for ceremony.
The Academic Senate selected two graduates to address the assemblage: Patrick McGaughey (A.A. Liberal Arts and Humanities) from the Kern River Valley campus, and David Santiago (A.A. General Science) from the Ridgecrest campus.
Local ceramic artist Betty Spindler was selected as the Alumni Association's Distinguished Speaker. A 1986 graduate of Cerro Coso Community College, Spindler earned an Associate Degree in Art. She holds a Bachelor's degree from the University of California Santa Cruz in Liberal Arts majoring in Art. Her works appear in galleries throughout the United States and one of her pieces is on permanent display at the Smithsonian American Art Museum in Washington D.C. An advocate for community colleges she shared her inspiring story of triumph over a learning disability which led her to a successful and rewarding life.
The Ridgecrest Community Band, conducted by Ms. Deborah Veit, provided music for the festivities.
FOR FURTHER INFORMATION, PLEASE CONTACT:
Natalie Dorrell, Public Information (760) 384-6260