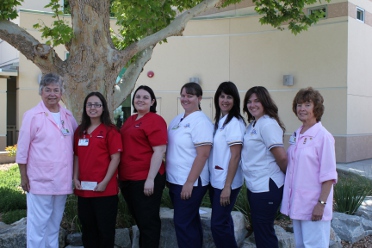 (L to R) Barbara Martin, Pink Ladies Auxiliary Scholarship Committee Chairman; Heather Sinton (2009); Jennifer Melchor (2009); Ashley Heath; Sher Davis; Michelle Korensky; and Joanne Frederick, Pink Ladies Auxiliary President.
IWV
Pink Ladies Auxiliary Gives Scholarships to Nursing Students
May 7, 2012
The Ridgecrest Regional Hospital Pink Ladies Auxiliary has awarded five $750 scholarships to students seeking careers in nursing. The recipients included two Cerro Coso Community College graduates: Heather Sinton ('09) and Jennifer Melchor ('09) now completing the Registered Nursing Program through Bakersfield College and three Licensed Vocational Nursing students on track to graduate this May: Ashley Heath, Sher Davis, and Michelle Korensky.
Founded by Jan Hoagland in 1958, the Pink Ladies Auxiliary raises money through various fundraisers, private donations, no bake-bake sales, garage sales, and proceeds from the Gift Shop to fund these scholarships. Their efforts support Ridgecrest Regional Hospital's mission to provide outstanding healthcare in our community.
FOR FURTHER INFORMATION, PLEASE CONTACT:
Natalie Dorrell, Public Information (760) 384-6260