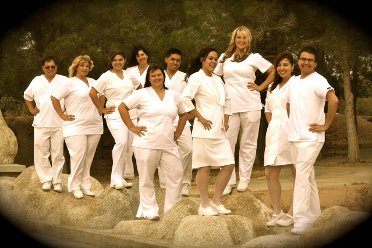 Cerro Coso Community College Vocational Nursing class of 2012 (l to r): Chou Lum, Cary Ortiz, Michelle Korensky, Sher Davis, Ashley Heath, Antonio Laderas, Jennifer Wichman, Jacquelyn Lebsock, Lucia Niepagen, and Gabriel Martinez-Lin. Photo courtesy of Kim Blackwell.
IWV
College to Hold Capping and Nursing Pinning Ceremony
May 4, 2012
Success has been achieved by 10 Student Vocational Nurses at the Cerro Coso Community College, IWV Campus. A formal Capping and Nursing Pinning is slated for Saturday, May 12 at 1 p.m. in the College Lecture Center.
"The nursing ceremony is a well-known and honored event. Students start planning for this ceremony very early in their three-semester program," stated Cheryl Gates, Director of Vocational Nursing and Health Career Programs at Cerro Coso Community College. "We are honored to have Lucy Fulton, RN as our guest speaker for this year," continued Gates.
The highlight of the ceremony is always the candle-lighting and recitation of the Nursing Pledge. The nursing capping and the Nightingale Ceremony remain a treasured part of the total student nursing experience. Formal recognition will be provided to the graduates and to their families and friends, who supported them during their numerous hours of study, reading of their textbooks or working at clinical facilities. The ceremony provides validation that the difficult and adventuresome college experiences have been achieved.
The public is invited to attend this joyous event.
FOR FURTHER INFORMATION, PLEASE CONTACT:
Natalie Dorrell, Public Information (760) 384-6260