IWV
Cerro Coso Community College to Hold Commencement Exercise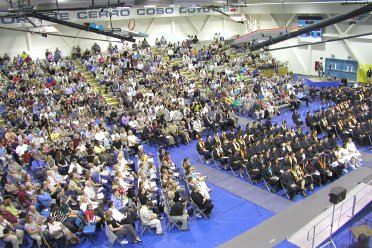 May 2, 2012
More than 300 degrees and certificates will be conferred at Cerro Coso Community College's commencement exercises Friday, May 11, in the Gymnasium of the Raymond A. McCue Athletic Complex located on the west side of College Heights Boulevard in Ridgecrest.
The ceremony will begin at 6 pm. Cerro Coso will be honoring eligible graduates from the IWV Campus, Kern River Valley Campus in Lake Isabella, South Kern Center at Edwards Air Force Base, and the Online campus. Those who cannot attend in person are invited to watch the ceremony live over the Internet at www.cerrocoso.edu/studentservices/graduation.htm.
A separate ceremony will be held at the Eastern Sierra College Center located in Mammoth on May 4.
Local ceramic artist and Cerro Coso Community College graduate Betty Spindler has been selected as the Alumni Association's 2012 Distinguished Speaker. A 1986 graduate of Cerro Coso, her works appear in galleries throughout the Unites States and have been selected to be part of several museum collections including the Smithsonian, American Art Museum in Washing DC and the Crocker Museum in Sacramento. Her work has been shown at the L.A. County Museum, UCLA Hammer Museum, Orange County Museum, Monterey Museum of Art, Palm Springs Art Museum, and is in private collections internationally. In addition to earning an Associate of Arts degree in Art with distinction from Cerro Coso Community College, Betty served as Student Trustee to the Kern Community College District Board of Trustees, Student Trustee to the California Association of Community Colleges, and was appointed by the Governor to the Commission for Disabled Students. She went on to graduate from the University of California Santa Cruz in 1990 with a Bachelor's degree in Liberal Arts with a major in Art.
The Academic Senate has selected two exceptional graduates to address the assemblage: David Santiago (AA General Sciences) from the Ridgecrest campus, and Patrick McGaughey (AA Liberal Arts and Humanities) from the Kern River Valley campus.
"Cerro Coso is very proud of its graduates, and we would like to extend a warm invitation to the community to join us in honoring their outstanding accomplishments," stated Cerro Coso President, Jill Board.
FOR FURTHER INFORMATION, PLEASE CONTACT:
Natalie Dorrell, Public Information (760) 384-6260