IWV
Coyote Honors: Cerro Coso Athletes Honored on May 4th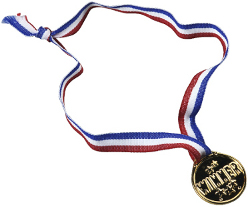 April 25, 2012
Bring your family and friends and join us for "Coyote Honors: Cerro Coso Athletics" and celebrate the academic and athletic achievements of Cerro Coso's student-athletes. All CCCC fans are welcome to attend. Admission to the 6:15 p.m. presentation is free for all fans. Fans who would like to order tickets for the Dinner that precedes the program/awards presentation can do so through the business office at Cerro Coso. Please RSVP by Wednesday, May 2. For more information or questions, please call the Athletics Office (760) 384-6353.
When: Friday, May 4th, 2012
Where: Cerro Coso Library, 1st floor
Dinner: 5:30 p.m. - 6:15 p.m.
Program and Awards: 6:15 p.m.
Attire: Business/Evening
Cost: $20 per person; children 12 and under are FREE

Please RSVP by Wednesday, May 2.
FOR FURTHER INFORMATION, PLEASE CONTACT:
Natalie Dorrell, Public Information (760) 384-6260