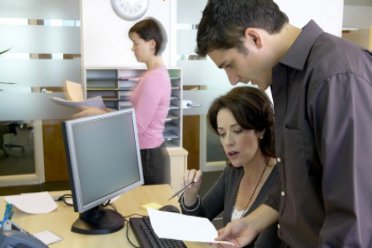 ESCC
"Business Office Boot Camp" Offered This Summer in Bishop
April 24, 2012
Bishop, California – Cerro Coso Community College is offering six entry-level business office technology courses at the Owens Valley Career Development Center this summer. These courses are designed to equip students with the skills needed to function effectively and efficiently in an office environment. Because students are able to take all but 6 units of the requirements for the Business Office Technology Office Clerk Certificate in just 10 weeks, the program has been dubbed "Business Office Boot Camp."
Business Office Boot Camp is a ten week program, beginning on May 28th. The cost is $276 plus the price of books, and the Owens Valley Career Development Center (OVCDC) has grant funding to assist students who qualify for financial assistance. Students attend classes Monday through Thursday, and have the opportunity to work as local business interns on Fridays. They will gain experience, develop skills, make connections, strengthen their resumes, learn about a field, and enhance the local workforce. Boot Camp includes the following courses:
BSOT C127 provides students with a basic understanding of Microsoft PowerPoint. They will learn to plan, create, edit, view and print PowerPoint presentations.
BSOT C131 teaches students basic keyboarding skills. Correct touch typing for alphanumeric, symbol and punctuation keys will be covered, and speed and accuracy will be emphasized.
CSCI C070 is a computer literacy course designed for those with little or no computer experience. Students will practice file management, email correspondence, instant messaging and Internet browsing.
CSCI C121 covers the fundamentals of Microsoft Word. Students will learn to create, edit and format documents including: business letters, multiple page reports, newsletters and cover letters.
CSCI C123 introduces students to Microsoft Excel. Spreadsheet design, creation, revision, formatting and printing will be discussed. Students will learn to create basic sales and expense reports, family budgets and business related spreadsheets.
CSCI C125 presents an introduction to Access. Fundamental relational database design and management will be covered, as well as building and editing basic tables, forms, queries and reports.
Eastern Sierra businesses will benefit from Boot Camp as well. They may find future employees among the interns. Business productivity will increase. Perspective will be enhanced with the introduction of fresh ideas and new skill sets. And because interns are unpaid, the program provides the business community with a valuable resource at no cost.
For further information on Business Office Boot Camp, visit Cerro Coso's website at www.cerrocoso.edu, or call the local offices at (760) 934-2875 or (760) 872-1565. You may also contact the Owens Valley Career Development Center at (760) 873-5107 or visit their website at www.ovcdc.com. See also: Boot Camp Flyer and Boot Camp Brochure.
Contact:
Caroline Sanderson
Eastern Sierra College Center
Cerro Coso Community College
caroline.sanderson@cerrocoso.edu
FOR FURTHER INFORMATION, PLEASE CONTACT:
Natalie Dorrell, Public Information (760) 384-6260