IWV
Two Lady Coyotes Earn All-Conference Honors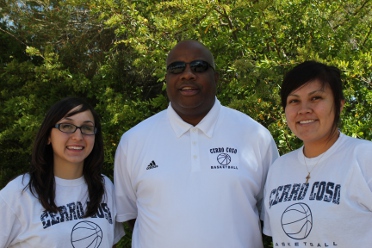 L to R: Taylor Boske, Coach Jackson, and LaChelle James.
April 17, 2012
Two Cerro Coso Lady Coyote basketball players earned Foothill All-Conference honors. Freshman Coyote Taylor Boske made 1st Team and sophomore LaChelle James made honorable mention.
Taylor, originally from Ridgecrest, is a shooting guard for the Coyotes. She led the conference in scoring by more than 18 points per game and holds a 3.5 grade point average at the College. Her major is biology and she considers one of her biggest accomplishments making the DSL All-Star Team and winning the 3-point contest.
LaChelle, a sophomore at Cerro Coso, plays forward for the Coyotes and is majoring in nursing. Originally from Sanders, Arizona, LaChelle's honors include: National Honor Society, 2010 Valedictorian, 4 years honor roll, all Tourney & all Varsity Basketball Honorable Mention, 2 years varsity Basketball Team Captain, and 2 Years Defensive Player of the Year.
Taylor and LaChelle represent the best of the best in Coyote Basketball. Congratulations Lady Coyotes!!!
FOR FURTHER INFORMATION, PLEASE CONTACT:
Natalie Dorrell, Public Information (760) 384-6260