IWV
Cerro Coso to Present Free Desert Community Band Concert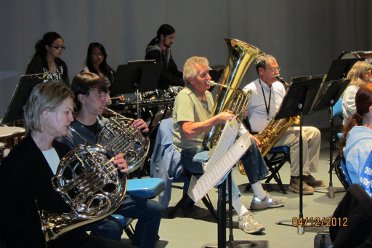 April 13, 2012
Cerro Coso Community College's Office of Community Education will host the Desert Community Band's Spring 2012 Concert on Thursday, April 19 at 7:30 p.m. in the College Lecture Center.
Conducted by Debra Veit and Lisa Austin, the band will perform a variety of pieces from "The Star Spangled Banner" to "The Wizard of Oz" in a variety of styles: traditional marches, new literature for band, big band, and some classic rock for your musical enjoyment.
The band musicians range from advanced Middle School students to senior citizens who meet once a week to rehearse together. Brian Cosner will be the featured vocal soloist on a medley of songs by the Eagles.
The concert is sure to be fun for the whole family and the public is invited to attend for FREE. Seating is limited, so be sure to arrive early.
Doors open at 7:00 p.m.
Donations are gratefully accepted to help cover band expenses.
FOR FURTHER INFORMATION, PLEASE CONTACT:
Natalie Dorrell, Public Information (760) 384-6260