IWV
Desert Artists' League Shows College Support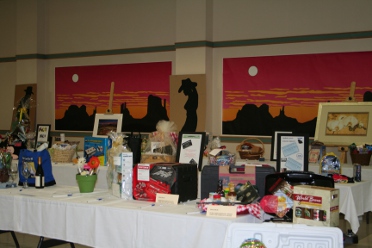 April 12, 2012
Members of the local art community are rallying behind the Cerro Coso Community College Foundation's Denim and Diamonds fundraiser on Friday, April 20, 2012 to benefit students and programs at the college. Many members of the Desert Artists' League have donated their own art pieces, as well as pieces from their personal collections by other artists, to be auctioned at this year's event.
Under the volunteer leadership of Foundation President Cheryl Gates, this year's auction will feature a remarkable collection of works by artists Hamil Ma, Helga Batman Koplin, Pat Kleinschmidt, Donnie Woods, Donna Maria Smith, Jean Nasser, Helen Baker, and Betty Spindler. Other auction items will include gift baskets, jewelry, collector items, and more.
"We are very thankful to the artists, businesses, and friends that have shown such enthusiastic support for this year's fundraiser," said Gates. Fundraising efforts like these are vital to the continued success of Cerro Coso Community College and its students.
The Denim and Diamonds fundraiser is one of the CCCC Foundation's signature annual benefits helping to meet the needs of students and the college. Guests are encouraged to dress in their finest denim or formal attire for the event, which begins at 5 p.m. Dinner will be served at 6:30 p.m. Tickets are $30 per person and are available at the Ridgecrest Chamber of Commerce, Maturango Museum, Red Rock Books, and at the College.
In addition to the good food and the silent and the live auctions, there will be lots of fun, coronation of a King of Denim and Queen of Diamonds, dancing, and more.
FOR FURTHER INFORMATION, PLEASE CONTACT:
Natalie Dorrell, Public Information (760) 384-6260