IWV
Three Cerro Coso Students Make Presentations at HTCC Research Conference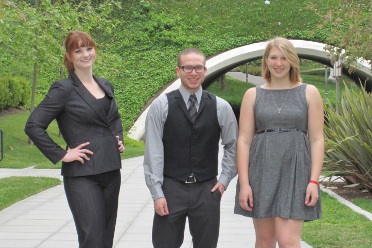 Cerro Coso Honors Program students and conference presenters (l to r) Megan Hyatt, David Santiago, and Anna Moschitto.
April 11, 2012
Three Cerro Coso Community College Honors Program students presented their research at the Annual Honors Transfer Council of California (HTCC) Research Conference at UC on Irvine Saturday, March 31.
Megan Hyatt's poster presentation was entitled "Free Speech Rights versus Property Rights" and examines how conflicts between free speech rights and property rights are resolved on college campuses. To complete this project, Megan was mentored by Cerro Coso history professor, Dr. Matthew Jones.
David Santiago's oral presentation, "The Effects of Urbanization and Irrigation on the Prevalence of Coccidioides Species in Endemic Areas," investigates "the prevalence of Coccidioides species in traditional high-irrigation landscapes versus xeriscape landscapes in endemic areas through use of competitive PCR analysis." His presentation comes out of a project David is doing under Cerro Coso biology professor, Dr. Claudia Sellers.
Anna Moschitto's oral presentation, "Paradoxical Paradise," explains that "in Paradise Lost, John Milton's language emphasizes otherwise ineffable ideas about Satan and the Son, whose contradictory natures are necessary for their roles in the poem." Her presentation came out of an Honors paper Anna wrote for Cerro Coso English professor, Cliff Davis.
Honors Program Coordinator, Christine Swiridoff, attended the conference with the students. "These students were amazing! They prepared more than any other presenters we've had and presented with great ease. I was quite proud of their accomplishments," said Dr. Swiridoff.
FOR FURTHER INFORMATION, PLEASE CONTACT:
Natalie Dorrell, Public Information (760) 384-6260