IWV
Winston Receives FACCC John McFarland Literary Achievement Award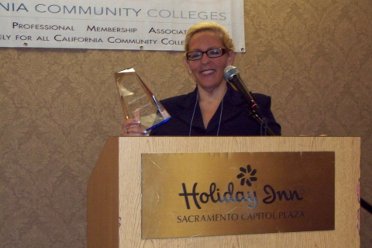 April 6, 2012
The Faculty Association of California Community Colleges (FACCC) awarded Cerro Coso Math Professor Dr. Rachel Winston the John McFarland Literary Achievement Award during this year's fourth annual Advocacy & Policy Conference.
Annual awards are presented to those who demonstrate outstanding commitment to the preservation of the California Community Colleges—a critical component of higher education and economic recovery. The John McFarland Literary Achievement Award is given annually to an outstanding full- or part-time faculty member who contributes to the education of faculty and promotes faculty issues through FACCC publications.
Dr. Winston was honored for her leadership, editing, and writing which offers an insightful voice to California Community Colleges faculty. Dedicated to FACCC, Dr. Winston has served on nearly every FACCC committee including eight years on the Communication Committee.
A Mathematics Professor at Cerro Coso since 2001, Winston earned her PhD at the University of Texas at Austin's Community College Leadership Program where she also studied at McCombs School of Business and the Journalism School. She served at the AACC in Washington, D.C. in Communications and Governmental Affairs writing for both the Community College Journal and the Community College Times.
Dr. Winston has been a FACCC member since 2002.
FOR FURTHER INFORMATION, PLEASE CONTACT:
Natalie Dorrell, Public Information (760) 384-6260