IWV
Cerro Coso Professor Karen O'Connor Elected to Serve as President of CBEA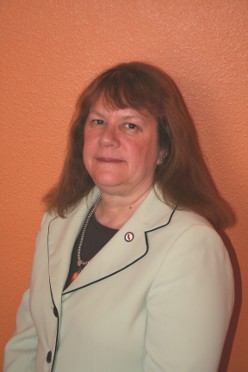 March 30, 2012
Karen O'Connor, Associate Professor of Business Office Technology and Computer Science at Cerro Coso Community College, will serve as President of the California Business Education Association (CBEA) Board of Directors.
Established in 1935, the CBEA is a state-wide professional organization for business and computer instructors, administrators, and their business/industry partners. CBEA represents and assists with programs at middle schools, high schools, regional occupational programs/centers, community colleges, universities, and private colleges. They believe that all students must be given an opportunity to be exposed to and participate in creative workforce preparation programs that prepare them to become responsible, self-reliant citizens.
The California Business Education Association (CBEA) announced new board members and presented its awards for 2011 service at the WBEA/CBEA 2012 Joint Regional Conference in February at the Fairmont Hotel in Newport Beach. The following individuals were elected to the state board of directors: Karen O'Connor, CBEA President, Cerro Coso Community College, Ridgecrest; Irina Weisblat, CBEA President-Elect, Southwestern College, Chula Vista; George Pleasant, CBEA Treasurer, Belmont; Jan Takeuchi, CBEA Secretary, Sacramento; Linda Snider, CBEA Past President, Grossmont College, El Cajon; Bay Section representative: Gary Marsh, Mission Valley ROP, Fremont; Northern Section representative: Steve Linthicum, Sierra College, Rocklin; Central Section representative: Chris Hood, Tehachapi High School, Tehachapi; Southern Section representative: Bob Livingston, Cerritos College, Norwalk; San Diego/Imperial Section representative: Andre Andersen, Grossmont, San Diego City and MiraCosta Colleges.
Karen is a Department Chair for Business and Computer Science at Cerro Coso. "Karen has excellent leadership skills and is an outstanding representative of Cerro Coso Community College," said College President Jill Board. "She will serve as a strong voice and dedicated advocate for our students."
Over two hundred educators attended the conference from the ten western United States and territories and the Canadian Provinces of Alberta and British Columbia. Conference events included 32 breakout sessions, seven hands-on computer workshops, and tours of Saddleback College's RapidTech Center and EON Reality.
CBEA plans to hold its 2012 State Conference in Sacramento, November 1-4, 2012 at the Embassy Suites Hotel.
FOR FURTHER INFORMATION, PLEASE CONTACT:
Natalie Dorrell, Public Information (760) 384-6260