News Release
IWV
"Wherever there is a Fight" exhibit at Cerro Coso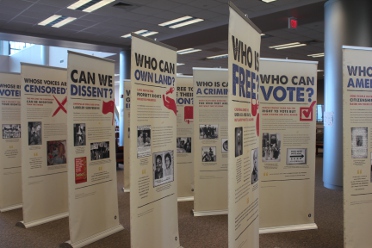 March 29, 2012
The Associated Students of Cerro Coso Community College are proud to present the "Wherever There is a Fight" exhibit now on display in the College Library.
Spanning the period from the Gold Rush to the post-9/11 era, the exhibition tells the hidden stories of unsung heroes and heroines throughout California who stood up for their rights in the face of social hostility, physical violence, economic hardship, and political stonewalling.
The exhibition educates audiences about the evolution of civil liberties and civil rights in California and how they are central to democracy. Stories of personal struggle demonstrate the ongoing fight and provide a framework through which current controversies can be debated.
The central themes of the exhibition are:
Civil liberties are essential for democracy.
Civil liberties struggles repeat over time while targeted groups change.
Civil liberties are perpetually in flux. Each generation must fight to preserve them.
Although our constitution enumerates rights, it is the people who must fight for equality and justice to make them meaningful.
This exhibit is based on the book Wherever There's a Fight: How Runaway Slaves, Suffragists, Immigrants, Strikers, and Poets Shaped Civil Liberties in California by Elaine Elinson and Stan Yogi (Heyday Books, 2009).
The "Wherever There is a Fight" exhibition is part of the California Council for the Humanities Searching for Democracy, a thematic program designed to examine the meaning of democracy today.
This exhibit will be on display in the CCCC Library until April 20th, 2012.
FOR FURTHER INFORMATION, PLEASE CONTACT:
Natalie Dorrell, Public Information (760) 384-6260