IWV
Denim and Diamonds and Fun to Boot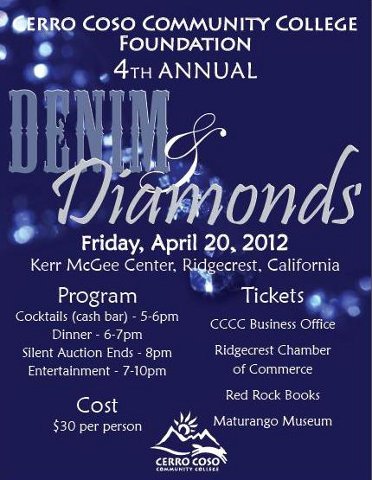 March 28, 2012
The Cerro Coso Community College Foundation will host their 4th Annual Denim & Diamonds Gala for education fundraiser on Friday, April 20, 2012 at the Kerr McGee Center. This year's event promises to deliver a host of surprises.
Diamonds and Denim and mixed casual and formal attire provide a unique atmosphere for the dinner and dance evening of fun. Entertainment begins at 5 p.m. with a social hour, followed by dinner catered by Casey's Steaks and BBQ, raffles, silent and live auctions, and dancing.
Dedicated to their mission to support access, success, and excellence at Cerro Coso Community College, this event brings the community together and puts the FUN in fundraising.
As state appropriations continue to decline, public support becomes vital to the programs and services of Cerro Coso Community College. Financial support is one of the most pressing issues the college faces today.
"Fundraisers like the Denim and Diamonds Gala along with the support we receive from individuals and local businesses is critical to our mission to provide educational opportunities and services to the rural communities we serve," stated Cerro Coso Community College President, Jill Board.
The King of Denim and Queen of Diamonds Coronation will take place at 8:30 p.m. and a silent auction will run throughout the evening. "You won't want to miss this event...we have loads of great items to bid on," stated Cheryl Gates, Foundation President and Event Coordinator.
Tickets for the Denim & Diamonds Gala are only $30.00 per person and are available from the Ridgecrest Chamber of Commerce, Red Rock Books, China Lake Museum, and the Cerro Coso Business Office.
"Dress in your jeans, formal attire, or a combination of both and be prepared to have fun," said Board.
FOR FURTHER INFORMATION, PLEASE CONTACT:
Natalie Dorrell, Public Information (760) 384-6260
Top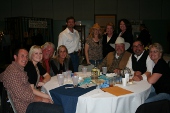 More Information & Photos from the 2011 Gala