IWV
Cerro Coso Offering 12-Hour Basic Conversational French Class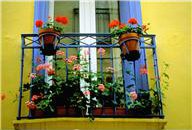 March 15, 2012
Cerro Coso Community College is again offering its community education class in Basic Conversational French for those interested in learning how to hold a basic conversation in French. The official language of more than 25 countries, French is the fourth-most widely spoken mother tongue in the European Union.
Stephanie Loutas-Kapeles, a Ridgecrest resident, will teach participants to count from 0 to 100 in French, ask basic questions and give appropriate responses in French, describe people and objects in French, and express basic preferences in French. The class will meet on Tuesdays and Thursdays from March 27, 2012 through May 3, 2012 from 6:30 p.m. to 7:30 p.m. The registration fee for this 12-hour community education class is $65; the fee includes a book for each student.
Expand your horizons and learn a new language at Cerro Coso Community College. Learning how to speak French is sure to provide countless benefits to those who invest their time and effort into studying the language. The French language is one of the most popular languages in the world. Many call it the language of love because of its intonation and pronunciation. Participants will also learn about the French and Francophone culture.
The minimum age to take this class is 16. All classes will be held in Room 246 in the Cerro Coso College Main Building.
Complete registration and course information is available on the web at www.cerrocoso.edu/communityed or contact Stephen Gexler, Community Education Manager at (760) 384-6106 or at Stephen.Gexler@cerrocoso.edu.
FOR FURTHER INFORMATION, PLEASE CONTACT:
Natalie Dorrell, Public Information (760) 384-6260