IWV
Cerro Coso Students Make All-California Community Colleges Academic Team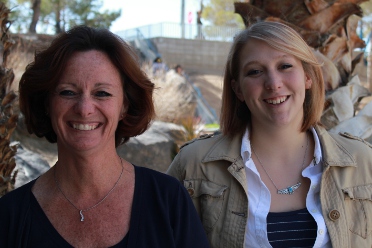 March 13, 2012
Ridgecrest, California – Cerro Coso students Tammy Kinnan and Anna Moschitto have been named to the 2012 Phi Theta Kappa All-California Academic Team, a state-wide competition co-sponsored by the Community College League of California and Phi Theta Kappa International Honor Society. Both students are members of the college's Honors Program and Phi Theta Kappa, an international honor society for two-year colleges that encourages academic excellence and promotes community service.
Nominating professor, Christine Swiridoff, wrote, "Tammy Kinnan is not the traditional student. She started college later and works full time, but she brings to her academic career a wealth of experience, determination, and focus, the same qualities she brings to her professional career. It has been such a pleasure for me to see one of my talented colleagues grow further as such an outstanding student. I think she is an excellent role model for our students, demonstrating what it means to be a life-long learner." Tammy is the Administrative Assistant to the Vice President of Academic Affairs at Cerro Coso. Her primary interest is Emergency Management. She actively serves on the college Safety and Security Committee and plans to continue her training by taking additional courses through FEMA. Tammy has completed a number of FEMA Incident Command Systems (ICS) courses and is even qualified as a trainer to teach several ICS courses. Her interest in risk communications and identifying hazards will serve the college well throughout her career.
Anna was nominated for the award by English Professor, Cliff Davis, who stated, "Over the past two years, I have been repeatedly impressed by Anna Moschitto's aptitude for challenging work, her superior writing and critical thinking skills, her honesty and integrity, her rapport with her classmates, and her enthusiasm and good humor. Anna's ability to write well and think critically about a variety of challenging subjects was strikingly evinced by her work in English 70, 101, 235, 102, 102H, and 221." Davis enthusiastically recommended Anna and said, "She is the kind of student who represents, in the brightest possible colors, the diverse opportunities and extraordinary potential of a community-college education. Anna Moschitto is a powerful testament to the excellence of the California community colleges." Anna works on base and is part of the Student Educational Employment Program (SEEP) which provides Federal employment opportunities to students who are enrolled or accepted for enrollment as degree seeking students. She is an Electrical Engineering major and plans to transfer to Cal State San Luis Obispo to complete her education.
Tammy attended a luncheon in Sacramento where the state's top community college students were formally recognized for their academic achievements, community service, and the example they set for their fellow students. Anna was unable to attend due to her work and school schedule.
FOR FURTHER INFORMATION, PLEASE CONTACT:
Natalie Dorrell, Public Information (760) 384-6260