IWV
Cerro Coso introduces new Computer Science Instructor April Browne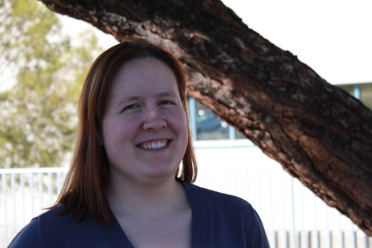 February 27, 2012
Cerro Coso Community College is pleased to welcome new full-time Computer Science Instructor April Browne.
When choosing a career path in life, it is important to consider one's personal values, temperament, experiences, and skills. For April Browne, it seemed a natural choice to teach. A self-described extrovert, both of April's parents taught for community colleges.
Recruited right out of college as a computer scientist by NAWC, April was thrilled when she was selected to fill the full-time position at Cerro Coso. She loves interacting with students and finds her new job interesting and exciting.
As an instructor, not only will she keep her fascination for computer information systems alive, but it will be renewed each day as she imparts her knowledge to her students.
April has a Bachelor's Degree in Computer Information Systems from CSU Humboldt and a Master's Degree in Computer Science from Chico State University.
Her husband, Jason Hayes, is a Computer Scientist on base. Together they are enjoying raising their 9 month old son Logan.
In her free time, April enjoys CrossFit and agility training with her two dogs.
FOR FURTHER INFORMATION, PLEASE CONTACT:
Natalie Dorrell, Public Information (760) 384-6260