IWV
Former NFL Player Tuipala speaks at Celebrity Sports Dinner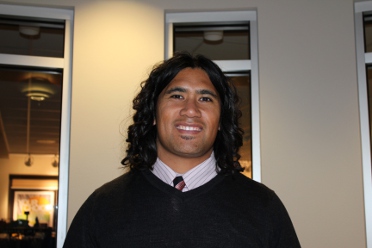 February 8, 2012
Former NFL player Joseph Tuipala was the guest of honor at the Celebrity Sports Dinner hosted by the CCCC Athletic Boosters on Saturday, February 4, 2012.
A pinnacle event for local sports fans, Tuipala, a 1994 graduate of Burroughs High School, went on to play for the New Orleans Saints in 1999 and the Jacksonville Jaguars from 2001 to 2003.
When addressing the crowd of more than 140 attendees, Tuipala chose not to focus on his career in the NFL, but on the important role local athletic programs played in his success on the field and in life.
He recalled being told by a little league coach that maybe one of the players on the team would become a professional football player and thinking "why not me." So, with the encouragement of his family and coaches, he pursued his dreams and worked hard both in the classroom and on the field.
Now the father of two young boys, Tuipala is thankful for the support he received from the community that helped him to be successful in football and in life. "Education, Education, Education," said Tuipala. "Without an education there isn't much of a life. Without an education there is no game. Education is the key to competing in the game of life."
He was both humbled and thankful for the sacrifices made by those who support athletic programs locally and closed with a quote by legendary coach Vince Lombardi, "Football is a great deal like life in that it teaches that work, sacrifice, perseverance, competitive drive, selflessness, and respect for authority is the price that each and every one of us must pay to achieve any goal that is worthwhile."
Tuipala is now a Fireman in Mesa, Arizona and returns to Ridgecrest regularly to inspire and encourage local athletes.
"The turnout exceeded our expectations," stated Kimberlee Kelly Schwartz, Interim Athletic Director at the College. "Casey's BBQ did a wonderful job of preparing for more participants."
"We are thankful for the continuous and overwhelming generosity of the local community in support of athletics at Cerro Coso," continued Schwartz.
Sponsors for the evening included: Epsilon Systems, C. Martin Company, McDonalds of Ridgecrest, Ridgecrest Lions Club, Waste Management, and Western Homes.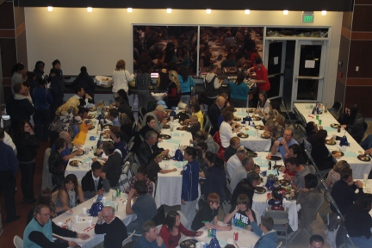 The Cerro Coso Athletics Boosters thank the following donors and supporters that made this event a success: Ashley Furniture, Auto Zone, B Photography, Barnes & Noble, Baskin Robbins, Baxendale's, Ron Carter, Paula Caudill, CCCC Athletics, China Lake Museum, Cindy Hair Co., Anna Sue Eldridge, Gus 4 Us, Tim Higgins, Jewelry to Go, Andre Ledford family, Lindsay's Furniture, Loewen's, Mammoth Resort, Mike Miller, Mirabelle French Restaurant, Dave Ostash family, Pizza Hut, Police Employee Association of Ridgecrest, Sears, Richard & Nancy Schnell, Shanghai Beauty Boutique, P.J. Smith, Monroe Sorge, Tender Cut Meats, That Water Place, TJ Frisbee, Mike Tosti, Todd Mather, True Value Hardware, Shannon Woolridge, and Richard Zalenski.
"We are extremely grateful to Joseph Tuipala for taking time out of his busy schedule to make this event a success and to the community for their continued support of Cerro Coso athletics," concluded Schwartz.
FOR FURTHER INFORMATION, PLEASE CONTACT:
Natalie Dorrell, Public Information (760) 384-6260