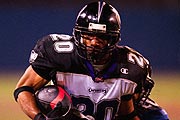 IWV
Cerro Coso Boosters to host Celebrity Sports Dinner
January 12, 2012
Former NFL players, Joseph Tuipala and Marvin Washington will be guests of honor at the 1st Annual Celebrity Sports Dinner hosted by the Cerro Coso Community College Boosters on Saturday, February 4, 2012 at 6 p.m. in the newly remodeled Student Center at the College.
A pinnacle event for local sports fans, Tuipala is a 1994 graduate of Burroughs High School and went on to play for the New Orleans Saints in 1999 and the Jacksonville Jaguars from 2001 to 2003.
Washington, a former defensive end, played for the New York Jets, the San Francisco 49ers, and the Denver Broncos where he won a super bowl in 1998 and AFC Championship. He also played college football and basketball at the University of Idaho.
Catch the football fever and enjoy an evening of great speakers, raffles, and live auction in support of Cerro Coso athletics. Auction items will include an authentic autographed NFL Jersey of Football Superstars Steve Young and Terrell Owens.
Tri-tip dinner catered by Casey's Steaks and BBQ.
Tickets are $20 for adults, $10 children (12 and under), and there are family packages available for $50 (2 adults & 2 children's tickets, addition child $5). Tickets are available at Red Rock Books, Ridgecrest Chamber of Commerce, and the Cerro Coso Business Office.
Sponsorship opportunities are available for the event. Partner with the college as a sponsor and increase awareness of your business or service and showcase your local community involvement.
For more information contact Tom Heck at (760) 384-6384 or visit us on the web at www.cerrocoso.edu/foundation/dinner.asp.
FOR FURTHER INFORMATION, PLEASE CONTACT:
Natalie Dorrell, Public Information (760) 384-6260