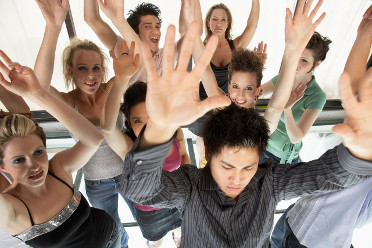 IWV
Cerro Coso to offer Zumba® & Yoga classes on Saturday Morning
January 4, 2012
Ridgecrest, California – Working out can be healthy, rewarding, and fun through Cerro Coso Community College's Office of Community Education.
Starting January 14, a ZUMBA® class will be offered from 9:00 a.m. - 10:00 a.m. and run for 8 Saturday sessions. The cost for all 8 sessions is $35.
Starting January 21, a YOGA class will be offered from 10:00 a.m. - 11:00 a.m. and run for 6 Saturday sessions. The cost of all 6 sessions is $30.
The Zumba® class will help you burn calories using simple Latin and International Dance moves to increase the fun factor. Routines feature fast and slow rhythms that tone and sculpt the body while burning fat. The music, created with specific beats and tempo changes, transitions the workout seamlessly from toning to strengthening to cardio thus targeting every major muscle group in the body.
Yoga for Relaxation & Strengthening is a class that is great for stretching and strengthening your muscles, reducing stress, and improving posture. Utilizing both physical and mental discipline to achieve peacefulness of body and mind, yoga helps you to relax and manage stress and anxiety. Participants will learn how to complete a yoga warm-up routine, practice various yoga sequences, practice sun salutations, engage in restorative and relaxation poses, breathe with intention, learn about the use of props such as blocks, straps, and bolsters, and improve mental relaxation techniques.
The minimum age for each class is 16. Both classes will be held in Room 407 of the Cerro Coso Community College Gymnasium.
Complete registration and course information is available on the web at www.cerrocoso.edu/communityed or contact Stephen Gexler, Community Education Manager at (760) 384-6106 or at Stephen.Gexler@cerrocoso.edu.
FOR FURTHER INFORMATION, PLEASE CONTACT:
Natalie Dorrell, Public Information (760) 384-6260